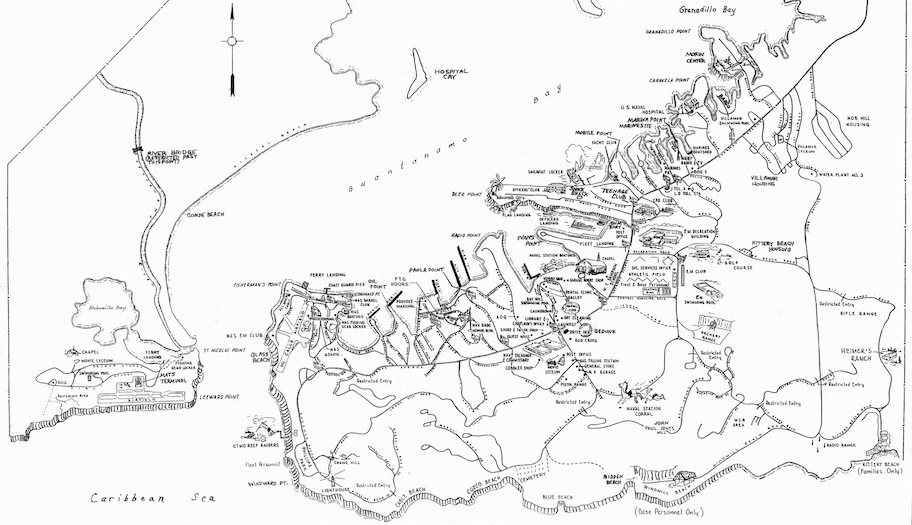 Throughout the 1960s, members of the U.S. military were given an introductory booklet to life on the base upon arriving at Guantánamo. Titled "Your GTMO Home", the document provides a glimpse of the people and physical structures that made up the base community. Here is an excerpt from the introduction:

"The Naval Base is a small city with its own public utilities, police and fire departments, bus company, schools, hospital, religious and civic organizations.  The Base population is approximately 8,500 divided as follows: 3,000 military personnel, 2,600 dependents of military personnel, 130 U.S. citizen civilian employees, 350 dependents of U.S. citizen civilian employees, 70 contractor personnel, 2,250 non-U.S. citizen personnel.

In addition, there are over 2,500 workers from nearby Cuban communities who commute daily to work on the Base.

The Base represents an investment of approximately 75 million dollars. There are over 1,850 buildings including approximately 1,000 units of family housing. The Base has 64 miles of paved and 92 miles of unpaved roads.

Just about every normal activity and facility found in a small U.S. town can be found on the Naval Base as it goes about its everyday business of supporting the Fleet."